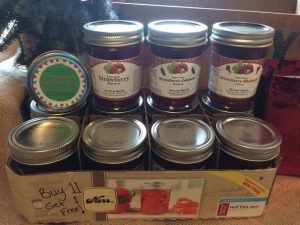 Unique, healthy, flavorful… Sarah's Jams are just the right size to fit in a little gift bag for everyone on your list…teachers, co-workers, friends, extended family members… all those people you love and with whom you wish to share joy! 
Email sarah@brouwerberries.com to place your order. $5.00 a jar while supplies last! You get one free jar in every dozen now through Dec.20! Pick-up at the farm at a time that works for you.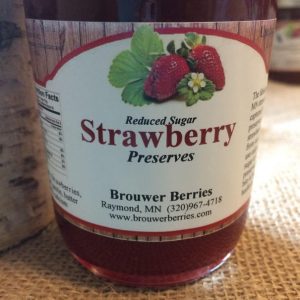 Strawberry:  The fabulous taste of  MN strawberries is captured in these preserves made from strawberries fresh from our field.  We use calcium instead of sugar to thicken our preserves, so every bite is bursting with health and flavor. Mix it with yogurt, top off your ice cream, or slather it on your toast, waffles, muffins or scones.
Strawberry-Jalapeno: Try some 'heat with the sweet' on your grilled meat, or tease your taste buds with crackers, cream cheese, and our Strawberry-Jalapeno Preserves!  Spoon it over white fish or chicken and oven bake it. Melt it and brush it over fish or meats as a glaze just before pulling it off the grill. Spoon it over a block of cream cheese as an appetizer.  Just the right amount of heat for northern taste buds!
Strawberry-Rhubarb: Tangy on your taste-buds, this delightful combination is only for people who grew up in the North and have developed a taste for the piquancy of rhubarb!   Spread it on toast, top off a waffle, or eat it straight out of the jar for a trip down memory lane.
Strawberry-Cranberry:Tart cranberries add a tangy explosion to these flavorful preserves that will cause your sun-starved salivary glands to kick into high gear.  Set this on your Thanksgiving or Christmas buffet table as a fun alternative  to plain cranberry sauce.  Use after the party on turkey sandwiches, roasted or baked turkey, roasted or grilled vegetables, tossed into a salad, or on toast.  
Strawberry-Peach: Delectable peaches and strawberries combine to form heaven with a hint of cinnamon.  
There is so little sugar in this combo that you can let the kids eat it straight with a spoon and call it a fruit serving.  Put a mountain
of this concoction on your ice cream, and you will melt into a puddle of bliss.
Margarita Dip: Described as "Margarita in a jar", this little doozie has more tequila and Grand Marnier in it than any other ingredient… supposedly all the alcohol burned off while cooking… which might explain why Sarah was a little dizzy making it:) Use it on crackers and cream cheese, or dip with pretzels.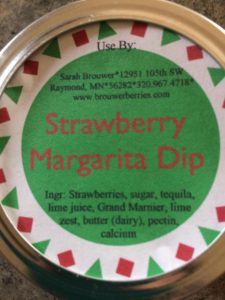 $5.00/jar
or Buy 11 Get 1 Free! 
Sarah Brouwer
P.S. Thank-you to everyone who has supported my jamming in the past.  I LOVE to jam, and YOU make it worthwhile!