Frequently Asked Questions
Can I purchase strawberries already picked?
Yes! You can purchase them by the quart or by the flat (10 lbs) on our farm.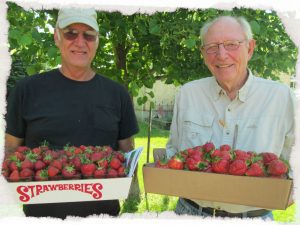 What are your pre-picked prices? $37.00/flat  $6.00/quart
U-pick? $1.99/#  You may bring your own containers or use the containers we provide.  We will weigh your container before you go to the field.  You will get a wagon or golf cart ride to and from the field.   An ice cream bucket will be @$10-$12.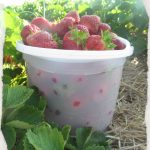 Are you certified organic? No. However, we use many growing practices that are organic, as our children can testify after hundreds of hours hand-weeding! We let our children eat the berries straight out of the field without washing them because we know that as long is there are no bird droppings, the berries are pure goodness.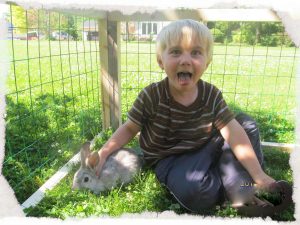 Are children allowed in the strawberry field?  YES!!! You will make priceless memories when you take your children to our farm and let them 'help' you!
Do I need to come the first few days to get the big strawberries? No! You get to pick from many strawberry varieties that ripen at different times. You may come a week, or even two or three weeks  after we open and pick in a variety that has just ripened.
Do I need to bring my own containers?
No, we have free containers for you to use.  You may bring your own, but it isn't necessary. 
Will you be selling at any farmer's markets this year?   We will try go to the Willmar Mid-Week market a few times, but if you wait to see us there you will probably miss the season.
 How do I contact you or place an order? Call (320)967-4718 or e-mail Sarah@brouwerberries.com
What hours are you open? It varies.  We aim to be open 8 am-7 pm Mon.-Sat,, unless we are picked out or if the weather is uncooperative.  Always check our Crop Report section on the Home Page  to confirm availability.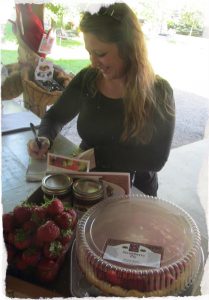 Will the strawberries ripen after they are picked?   No
How long will the strawberries keep in the refrigerator?  3-5 days, if you do not wash them or take their stems off until you are ready to use them. Store them in the lower part of your refrigerator, uncovered or loosely covered.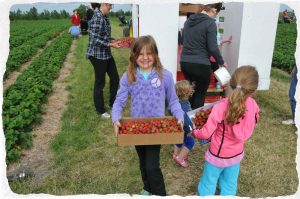 How do you wash and freeze strawberries?
Put them in a colander and rinse them off with cool water. You can put them in a sink of cold water and gently swish them around, but don't leave them in the water long or they will absorb the water and turn mushy. Be gentle with your berries.   See our recipes page for detailed handling and freezing methods.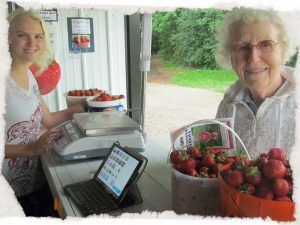 Do you grow raspberries or blueberries?  We have a 1/4 acre of raspberries, but no blueberries due to our alkaline soil.  The raspberries will be ready the final week of the strawberry season, U-pick only.  There is only one row, so people who come early in the morning are more likely to be able to get a pint or two before we are picked out. 
If it has rained, will I get muddy or wet? You get to walk on clean straw in the rows.  You may get a little wet from damp straw, but you will not get muddy – unless you go to the end of the row and roll around like some of our younger visitors:)
May I pick berries in the rain?
It is your choice if you want to continue picking, but if there is lightening we request that you come in from the field.
How do you take payment?
We take payment in cash, checks or credit and debit cards.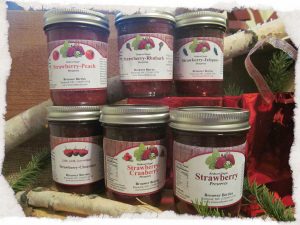 How do you make strawberry jam?        You can purchase a box of Pomona's Universal Pectin from us.  It is a natural and low-sugar alternative to the pectins sold in big box stores. See our recipes page for more details. 
Can I purchase Sarah's jam? Yes, but availability is limited.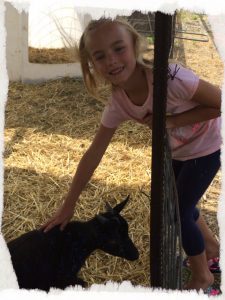 How do you meet your mission statement?  We grow the best possible produce using mainly manual labor.  We serve the environment by using cattle and cover crops to replenish our soil instead of chemicals, and by using drip irrigation instead of overhead to conserve water.  We donate our first fruits to the Willmar Food Shelf and Meals on Wheels as a Bible lesson for our children and an act of faith to the One who provides.  At the end of the harvest we choose people to 'glean' free from the field as Ruth did in Boaz' field.  Every aspect of fieldwork becomes a lesson to our children and our employees of trust in the Great Provider. 
What is the most beautiful farming prayer you know?   "May the Lord bless this land with the precious dew from heaven above and with the deep waters that lie below; 14with the best the sun brings forth and the finest the moon can yield; 15with the choicest gifts of the ancient mountains and the fruitfulness of the everlasting hills; 16with the best gifts of the earth and its fullness and the favor of him who dwelt in the burning bush." Deuteronomy 33:13-16 
Mission Statement: To grow and sell high quality strawberries while preserving the environment, serving the community and maintaining family values.